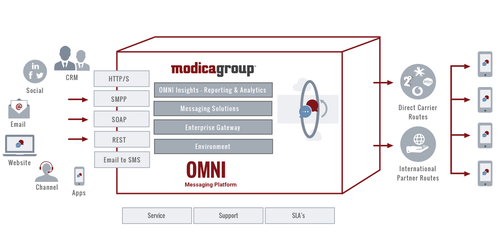 Go beyond the limitations of email-based communications by adding SMS messaging to your processes and platforms. Increased read and response rates, rapid delivery and read receipts make SMS a compelling communication method for all businesses to consider. Outage notices, roster updates, event alerts, 2FA codes, these are just some examples of how messaging can be used.
API methods available for integration include REST, HTTPS and SMPP, as well as integrations available for SalesForce, Marketo and Zapier users. Web-based applications are also available to meet all your messaging requirements.
About Modica Group

Established in 2001, our cloud-based messaging platform connects directly to all NZ Mobile Networks (and most global Networks) and customer software solutions, via secure API.
Working closely with Finance, IT, Government, Health and Education organisations, we enable our clients to manage their customer communication, services, and engagement via mobile.
With a number of acquisitions in 2016 (including Run The Red in New Zealand) Modica has a global footprint providing enterprise messaging solutions to a worldwide client base.
Through a unique combination of People, Process and Product, we help turn 'dumb pipes' into 'smart data', managing hundreds of millions of messages every year and working closely with our clients to help them understand their customers better.
This rapidly growing volume of mobile conversations and transactions creates a large amount of unique data. Our mobile analytics solution, OMNI Insights, then converts this data into reports and insights that can be used to enable better business decision-making.