Catalyst are New Zealand experts and pioneers in OpenStack. We can help you to design, implement and manage OpenStack private cloud platforms.
Our private cloud services build on top of our experience in running New Zealand's most advanced OpenStack public cloud. We use the same talent, procedures, and software to support your private cloud, resulting in services that are cost effective and highly reliable.
About OpenStack
OpenStack is the leading cloud operating system that automates every action in a data centre and exposes them via an open API. At its foundation, it implements software defined compute, storage and networking. Using these primitives, it builds and delivers more sophisticated infrastructure and platform services, such as cloud orchestration.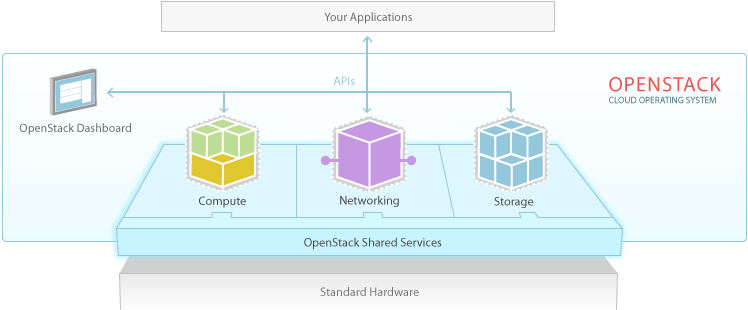 OpenStack is one of the fastest growing open source projects in history. There are over 650 companies and 75,000+ individuals involved with the project, which is quickly becoming an industry standard for cloud computing.
Managed private cloud
Managed private cloud is a service we offer to customers who would like Catalyst to implement and operate a private cloud remotely on their behalf.
The remote operation services provided by Catalyst provides the following benefits:
Monitoring the private cloud and responding to alerts or incidents 24x7;

Applying security updates or bug fixes to production as required, following the same operational procedures used on the Catalyst Cloud (with minimum downtime);

Providing capacity planning input to the organisation, so that the size of the private cloud can be adjusted to meet business growth;

Expanding or contracting the private cloud as required (for example: adding compute or storage capacity, scaling out the controller nodes);

Continuous deployment of new features to the private cloud, as they become available on Catalyst's public cloud;

Major upgrades of OpenStack and Ceph, so that the private cloud is kept current with the latest stable version of the services used by Catalyst on the Catalyst Cloud.

Support subscriptions
Support subscriptions for OpenStack and Ceph are offered to customers who want to build an on-premises private cloud and train their staff to manage it.
Catalyst Cloud support subscription provides the following benefits to customers:
Continuous access to enterprise ready cloud software, new features, security updates and bug fixes;

Access to additional technology, tools and processes that Catalyst uses to run its own public cloud in New Zealand, including monitoring and capacity management tools;

Third level technical support via Catalyst's support portal;

A collaborative relationship with New Zealand's open source experts, giving you access to engineers that are specialists in OpenStack, Ceph and all the other technologies used by the private cloud.
The OpenStack™ mark is either a registered trademark/service mark or trademark/service mark of the OpenStack Foundation, in the United States and other countries, and is used with the OpenStack Foundation's permission. We are not affiliated with, endorsed or sponsored by the OpenStack Foundation, or the OpenStack community.