Tech Talk in the Cloud
26 January, 2015
Bruno Lago, who leads Catalyst's cloud team, shared tips and tricks on running Software as a Service offerings on top of cloud computing during Friday's Tech Talk for Summer of Tech in Wellington.
Interest in cloud computing has skyrocketed over the last few years, and Catalyst launched its fully automated cloud last year, the Catalyst Cloud, which is based on OpenStack.
Clients can host their own applications and can have full control over the platform, taking advantage of innovative computing concepts to deliver efficiencies and cost effectiveness. Bruno's talk focused on tips and tricks when working with cloud infrastructure to avoid common pitfalls. After the presentation, Bruno answered questions from the audience that delved deeper into specific issues that he had raised and also covered general questions about cloud computing.
The Tech Talks are lunchtime sessions for participants of the Summer of Tech programme as well as other interested members of the IT community in Wellington. They are held on various topics throughout the summer to give students the chance to learn about a broad range of topics as well as network with other interns and mentors over lunch.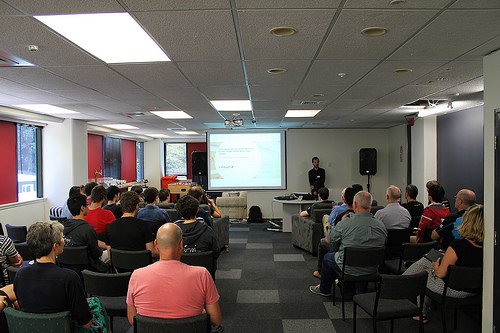 Summer of tech talk at Catalyst
View more photos.  Photos by Kristina Hoeppner, CC BY-SA.