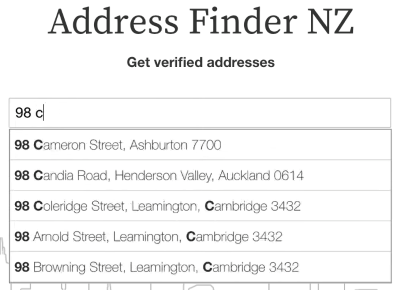 Share a better experience with your users, reduce re-delivery costs and collect better address data with our premium autocompletion services.
Our address autocomplete API allows users to speed up their form fill times and collect only verified postal addresses. By having address autocomplete enabled, you can be assured that you are only collecting verified NZ address data. With fuzzy search, we can match addresses even when users make spelling mistakes.
Our address autocomplete solution is free to install and easily integrated via our wide range of plugins for Magento, WooCommerce, and many more. We also offer Australian address autocomplete.
About AddressFinder

AddressFinder is Abletech's leading software service. We provide dependable and accurate address solutions for business owners that are looking to enhance their website forms or clean up their address data. We offer address autocompletion and verification within both Australia and New Zealand.