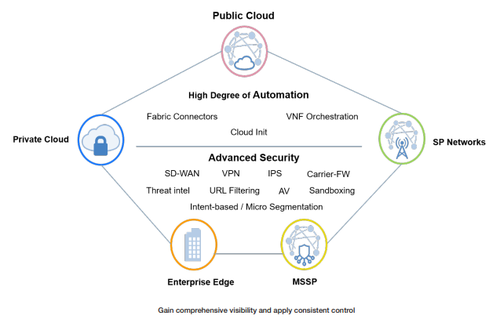 Powered by the FortiGate-VM, Thinking's Cloudbase Security delivers next generation firewall capabilities for organizations of all sizes. It protects against cyber threats with high performance, security efficacy, and deep visibility. Connect and collaborate with Cloudbase Security VPN capabilities, strengthen authentication with Multifactor and endpoint protection.
You can size and scale the device to suit your needs without sacrificing performance or risking exposure. Cloudbase includes automation, management and monitoring of the platform and is delivered as a managed service.
Security
Protects against known exploits and malware using continuous threat intelligence provided by FortiGuard Labs security services. Identifies thousands of applications including cloud applications for deep inspection into network traffic. Protects against unknown attacks using dynamic analysis and provides automated mitigation to stop targeted attacks.
Performance
Delivers industry's best threat protection performance with DPDK+vNP offloading and SR-IOV technologies, Supports Intel QuickAssist (QAT) acceleration for throughput improvements on IPsec VPN.
Certification
Independently tested and validated best security effectiveness and performance. Received unparalleled third-party certifications from NSS Labs, ICSA, Virus Bulletin, and AV Comparatives.
Networking
Delivers extensive routing, switching, and VPN capabilities to consolidate networking and security functionality.
About Thinking
With 34 years of networking and security expertise, Thinking are trusted security consultants for some of the largest enterprises in NZ. We are leading local experts in the design and delivery of bespoke cloud security systems, providing enterprise grade management and monitoring for your Catalyst Cloud public cloud services using Cloudbase Security solution.