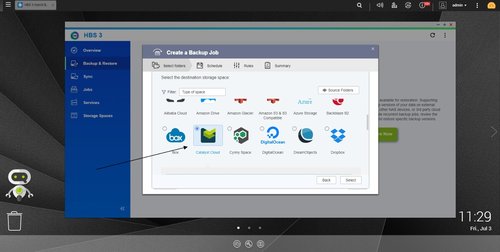 Hybrid Backup Sync 3 (HBS3) provides a secure and flexible hybrid cloud backup solution to streamline file backup, restore, and synchronization tasks. For connecting to Catalyst Cloud, you can easily create a backup/sync job in 4 easy steps through an easy-to-use interface. With QuDedup technology that deduplicates backup data at the source, the overall data size is reduced to save bandwidth, backup time, and the required storage. In a closed network, you can use proxy server to connect to Catalyst Cloud through HBS3. Building a 3-2-1 backup strategy and recovery plan with HBS3 is just that easy.
HBS3's user-friendly interface contains a wide range of functions, with the following key features:
File backup, synchronization, restore and relink.
Supports over 30 integrated cloud services
QuDedup source-based deduplication greatly reduces backup and restore time
QuDedup Extract Tool allows easy preview and restoration of deduplicated files
Supports TCP BBR to accelerate the cloud backup speed
Complete support for Cloud Object Storage
3-2-1 backup strategy is made easy
30 sets of schedule settings and rate control per job
For more information about HBS3, please visit here

About QNAP Systems, Inc.
QNAP, named from Quality Network Appliance Provider, is devoted to providing comprehensive solutions from software development, hardware design to in-house manufacturing. Focusing on storage, networking and smart video innovations, we strive to build a technology ecosystem upon subscription-based software and diversified service channels. QNAP envisions NAS as being more than a simple storage and has created a cloud-based networking infrastructure for users to host and develop artificial intelligence analysis, edge computing and data integration on their QNAP solutions. Learn more here