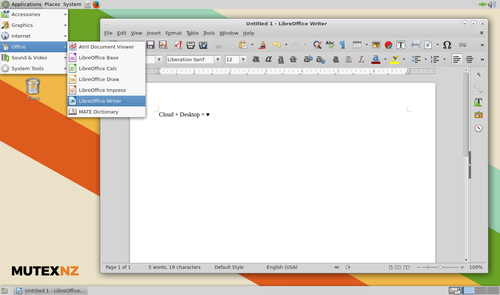 ThinLinc enables users to access their desktop from anywhere with an Internet connection, for example when travelling or working from home. Organisations also benefit from the traditional advantages of server-based desktop computing - whether hosted on-premises or on Catalyst Cloud - such as lower TCO, centralised administration and enhanced security.
ThinLinc is a Linux-based remote desktop server developed in Sweden by Cendio AB. Since its first release back in 2003, ThinLinc has evolved into a mature and robust solution used by organizations across the globe - each serving anywhere between 5 and 5000 concurrent users - in industries such as aeronautics, engineering, education, high-performance computing and general remote office setups. ThinLinc is built on standard open-source components such as VNC, SSH, CUPS and PulseAudio, and aims to provide a seamless local desktop experience.

MUTEX NZ is New Zealand's provider of professional support, consultation and implementation services for ThinLinc, the remote desktop server developed by Cendio.
MUTEX NZ has partnered with Cendio and Catalyst Cloud to provide ThinLinc as a managed service delivered from Catalyst Cloud. This means that no on-premises equipment or expertise is required, simply log in and start working.
MUTEX NZ has over a decade's worth of in-house experience with ThinLinc and Linux remote desktop systems, and no two are ever alike. If you'd like to discuss your specific requirements, feel free to give us a shout.